Mississippi Delta earthquake: America's Haiti waiting to happen?
Scientists predict a Haiti-magnitude earthquake along the New Madrid fault during the next 50 years. The fault runs under the Mississippi Delta, one of the poorest parts of the US.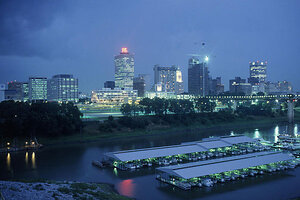 Mark Humphrey/AP/File
One of the strongest series of earthquakes ever to hit the United States happened not in Alaska or along California's San Andreas fault, but in southeast Missouri along the Mississippi River.
In 1811 and 1812, the New Madrid fault zone that zig zags through five states shook so violently that it shifted furniture in Washington, D.C., and rang church bells in Boston. The series of temblors changed the course of the Mississippi River near Memphis, and historical accounts claim the river even flowed backward briefly.
Geologists consider the New Madrid fault line a major seismic zone and predict that an earthquake roughly the magnitude of the Haiti earthquake (7.0 on the Richter scale) could occur in the area during the next 50 years.
That forecast is of particular concern because the New Madrid zone sits beneath one of the country's most economically distressed areas – the Delta. In many counties in the Mississippi Delta, the poverty level is triple the national average.
Moreover, the area is comparatively less prepared to deal with a huge earthquake than are other seismically active areas in the US, says Mark Ghilarducci, vice president of James Lee Witt Associates, a crisis and emergency management consulting company in Washington.
---