NASA Mars rover Spirit to rove no more
Spirit, one of NASA's Mars rovers, has been stuck in a crater for the past 10 months. NASA scientists say that if it survives the harsh Martian winter, it can be a valuable stationary research platform.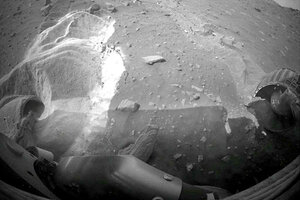 NASA/AP/File
NASA's robotic rover Spirit is entering the most dangerous phase of its six-year career on Mars.
With one wheel stuck in the Martian soil and two more out of commission completely, the golf-cart-sized explorer will have to get through a frigid Martian winter.
If it survives, Spirit will become a stationary platform for unique experiments on Mars. If it doesn't, it will become another historical marker on a planet that has captured the human imagination for millenniums.
"Spirit has encountered a golfer's worst nightmare – the sand trap that, no matter how many strokes you take, you can't get out of it," says Doug McCuistion, who heads NASA's Mars Exploration Program.
The rover – sporting a profile that combines a mechanical horse fly with an ostrich's neck – was traveling across the crater's salt-crusted surface when one wheel broke through and got suck in the soil underneath. It's been stuck there for 10 months. Rover drivers have tried various strategies to free Spirit, all to no avail.
Yet that may be a boon to science if the rover survives the next several months.
Researchers have an understandable desire to keep mobile rovers moving, says Steven Squyres, the mission's lead scientist. But as a research platform in a fixed location, Spirit may be able to answer critical questions about the nature of the planet's core, the impact of the winds on the landscape, and on the nature of the rover's "sand trap" itself.
---