Astronauts on ISS get first look out of new 'room with a view'
Astronauts aboard the ISS were 'moved to tears' Wednesday when they looked outside a new cupola for the first time.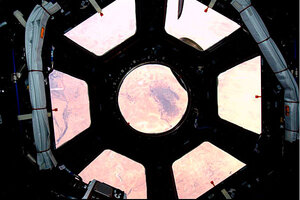 NASA/Reuters
Astronauts aboard the International Space Station got their first views of Earth from a new cupola today – the kind of sweeping panoramas that have largely remained the domain of space walkers.
By all accounts, it was a seminal experience.
"The astronauts, who are accustomed to views you and I can't really describe, were moved to tears when they looked outside the windows of the cupola for the first time," said the mission's lead space-station flight director, Bob Dempsey, during a pre-dawn briefing on the progress of the space shuttle Endeavour's 14-day mission to the International Space Station.
The shuttle crew installed a new module, Tranquility, on the station. Tranquility will house exercise equipment, life-support systems, and sanitation stations.
The cupola is a critical part of the module. It measures nearly 10 feet across and 5 feet tall. It is designed to give ISS crew members a new position from which to operate the station's robotic arm as it grapples with incoming resupply capsules. And it allows crew members inside to provide extra sets of eyes to support colleagues conducting space walks.
Each of the window's seven panes is protected from micrometeoroids and space junk by a thick shutter. Among the other tasks they performed during the third and final space walk of this mission late yesterday, shuttle crew members Bob Behnken and Nicholas Patrick removed thermal blankets from the outside of the cupola, then removed bolts that held the shutters snugly in place during Endeavour's launch on Feb. 8.
---