Obama, students quiz space station crew
The president and a group of middle schoolers placed a 20 minute call to the International Space Station from the White House on Wednesday.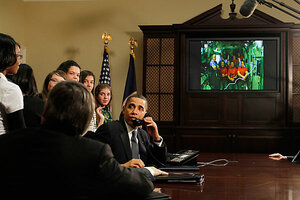 Jason Reed/Reuters
Take 11 astronauts in orbit, one folksy president of the United States, and a handful of middle-school students with an engineering bent, and for at least 20 minutes on a Wednesday afternoon, geeks and geek-wannabes rule.
What tends to be a brief exchange between astronauts and their Astronaut-in-Chief during missions turned into a 20-minute cosmic talk show, with President Obama acting as MC, the students asking the questions, and the astronauts in the hot seat.
Even Stephen Colbert, who won the naming contest for the module shuttle astronauts installed during this mission, got a brief shout-out. "Everybody here back home is excited about this bay on the world you guys are opening up," the president observed as he provided the opening warm-up. "And Stephen Colbert at least is excited about his treadmill."
But the tough questions came from the students. One, identified as Ruth from North Carolina, cut to the chase.
"What are some of the benefits of exploring space as opposed to exploring other places on Earth?" she asked.
As he turned the question over to the astronauts, Mr. Obama quipped: "Pretty serious question, guys. You better have a good answer; the NASA folks are listening."
---