What makes a supernova? Scientists thought they knew.
New X-ray research questions the origins of a key type of supernova, and may bend one of astronomy's go-to rulers.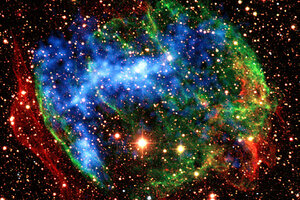 NASA
One of astronomy's most heavily used tools for measuring distances may be less reliable than researchers have assumed, according to a pair of astrophysicists.
Their conclusion, which will be published in Thursday's issue of the journal Nature, doesn't appear to cast doubt on decades of discoveries about the structure and evolution of the universe that relied on the tool – a form of exploding star called a Type 1A supernova.
These events "are the most important explosions in cosmology," says Marat Gilfanov, one of the two researchers involved in the Nature study.
In principle the new result "muddies the waters" for such stunning discoveries as the existence of dark energy, says astrophysicist Mario Livio, with the Space Telescope Science Institute in Baltimore.
At the least, the result – if it holds up – represents "an embarrassment for all astrophysicists," he says. "For decades we've been studying these types of explosions, and we still don't know" which of two broad mechanisms are involved in triggering them. That implies that there may be differences in the amount of light they produce, even though they've been lumped into the same class of supernovae, he said during a press briefing Wednesday.
---