Chile quake 2010: Tsunami warning system worked as intended
The Pacific basin's warning network detected the Chile quake's tsunami accurately, and computer models are improving, tsunami experts say.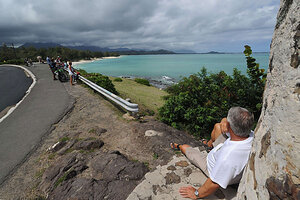 Lucy Pemoni/Newscom
The Chile quake that struck Saturday and triggered a tsunami that traveled throughout the Pacific basin provided the first basin-wide test of the region's tsunami-warning network in decades.
By several accounts, the region-wide warning effort was a success, though in retrospect evacuations in many places far from the Chilean coast appear to have been excessive given the size of the surge that ultimately arrived.
Initial estimates by state emergency officials in Hawaii reportedly put the size of arriving waves at between six and 10 feet. The waves that did arrive were less than three feet tall.
IN PICTURES: Images from the 8.8 magnitude earthquake in Chile
That apparent disconnect highlights the complexity of tsunami hazard responses, specialists say.
Gauging damage, accuracy
The major warning centers in Hawaii and Alaska issue basin-wide warnings, which include estimated time of arrival for the first of what usually are a series of waves. And they offer a projection of the tsunamis' heights as they approach a coast but remain in open water.
It's up to national, state, and local governments, however, to estimate the effects tsunamis can have at specific sites as they come ashore, then issue evacuation orders.
The warning centers in Hawaii and Alaska "did what their mandate called for" and "did a very good job," says Tad Murty, an adjunct professor specializing in tsunamis at the University of Ottawa in Ontario. The warning center estimated that tsunamis would begin to affect the Hawaiian Islands 15 hours after the magnitude 8.8 quake struck. The forecast was off by 5 minutes, he says.
---