As Climate Change debate wages on, scientists turn to Hollywood for help
Politicians and the public question global climate change evidence, so scientists look to Hollywood and websites for a new voice. Lights, camera, science!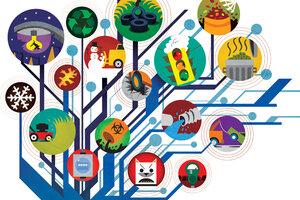 Newscom
Keeping the public looped in on what scientists are discovering has never been easy. For one thing, the traditional explainers – journalists – can distort, hype, or oversimplify the latest breakthroughs. But the need to communicate science broadly and clearly has never been more urgent.
Understanding science helps people know "where the truth speakers are on an issue" such as climate change, says Robert Semper, the executive associate director of the Exploratorium, a hands-on science center in San Francisco.
"The more educated and knowledgeable the public is about science ... the more responsible they can be when it comes time for voting or expressing opinions about public policy," adds Leslie Fink, a public affairs specialist at the National Science Foundation (NSF) in Washington.
The importance of getting the word out has science organizations scrambling to explore new channels, from souped up websites to asking Hollywood for help.
The current climate-change furor has become the poster child for what happens when there's a communications gap between scientists and the public. The vast majority of scientists see compelling evidence that the world's climate is about to change significantly, and that the change is largely driven by human activity. Yet polls show public opinion becoming more skeptical about climate change.
---