Own William Shatner's motorcycle - 'Star Trek' collectibles up for auction
Fans of Star Trek and William Shatner now have a chance to bid on artifacts from the original series to the recent film re-launch of the franchise.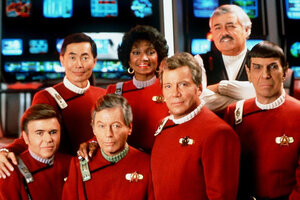 AFP/Newscom
An auction of items from the home of the late Gene Roddenberry, creator of "Star Trek," will be held to benefit charity this summer. Vintage Trek scripts and William Shatner's motorcycle are just a few of the items up for grabs.
Memorabilia from last summer's re-launch of the "Star Trek" film series and a few odds and ends from William Shatner, the original Capt. James T. Kirk of the Starship Enterprise, are expected to sell at warp speed if all goes as planned for organizer Julien's Auctions.
Among the Trek-related items on the auction block from Roddenberry's home are a script from "Star Trek: The Next Generation" with handwritten notes by Roddenberry himself, a model Starship Enterprise from his office, and costumes worn by Roddenberry's wife, Majel Barrett, when she portrayed Counselor Deanna Troi's garrulous mother Lwaxana Troi in several episodes across two different television series in the Trek universe.
Sci-Fi charity sale
The auction of the Roddenberry estate items will take place at the Planet Hollywood Resort & Casino in Las Vegas on Sunday, June 27, and all of the proceeds will go to charity.
Other personal effects, home furnishings and decorations from Roddenberry's Bel Air, Calif. home will go sale as well, including his decidedly dated early IBM computer.
---