Star Trek's William Shatner for Governor General of Canada?
A Facebook campaign is calling for Star Trek icon and Montreal native William Shatner to be appointed Governor General of Canada, a largely ceremonial role.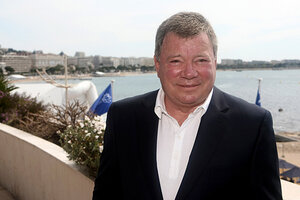 Lionel Cironneau/AP/File
William Shatner may have saved the galaxy countless times with the Starship Enterprise on TV's "Star Trek," but can he command his native land of Canada? Some die-hard fans think so – they want the original Capt. James T. Kirk to lead Canada as Governor General.
The Shatner believers have launched a Facebook campaign calling for Shatner, a native of Montreal, to be appointed to a real five-year mission as the ceremonial Governor General of Canada. As of Wednesday, nearly 41,000 people were supporting the bid.
"It's time for Canada to boldly go where no country has gone before," the fans wrote on their Facebook post. "It's time for Canada to appoint the incomparable William Shatner to the position of Governor General. Indeed it's time to Back the Shat."
But will Shatner, 79, take charge if he wins the appointment? The famed actor from "Star Trek" and other television and film roles mentioned the Canadian call for his leadership with humor on his Twitter page, where he posts updates under the name "WilliamShatner."
"I believe Governor General means you govern the generals. Does that make me part of the army?" Shatner wrote.
Actually, Canada's Governor General serves as the Commander-in-Chief of the country and acts on recommendations from the prime minister to appoint the chief of Canada's Defense Staff and Royal Colonels, according to a Canadian government description.
---