NASA: Some of moon's craters may be electrified
New NASA calculations suggest that solar wind blowing across the moon's surface may electrically charge polar craters.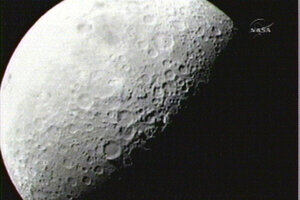 NASA/AP/File
Exploring the craters at the moon's north and south poles may be even more challenging than previously thought for future astronauts. New NASA calculations now show that solar wind streaming over the rough lunar surface may electrically charge polar craters on the moon.
The moon's polar craters are of particular interest to researchers because resources, including water ice, exist at these lunar structures. The moon's orientation to the sun keeps the bottoms of polar craters in permanent shadow, allowing temperatures there to plunge below minus 400 degrees Fahrenheit (minus 240 degrees Celsius), cold enough to store volatile material like water for billions of years.
"However, our research suggests that, in addition to the wicked cold, explorers and robots at the bottoms of polar lunar craters may have to contend with a complex electrical environment as well, which can affect surface chemistry, static discharge, and dust cling," said William Farrell of NASA's Goddard Space Flight Center in Greenbelt, Md., the lead author of the study.
IN PICTURES: The full moon
---