Stephen Hawking warning: What would an alien invasion be like?
Stephen Hawking has warned that extraterrestrials, if they exist, may not be friendly. But other experts say humanity has nothing to fear.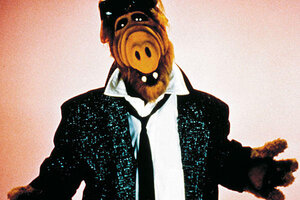 Newscom/File
The human race could be devastated if aliens were to learn of our existence and venture to Earth, warned British scientist Stephen Hawking on Sunday. But how could extraterrestrials really invade Earth?
Aliens have already viciously attacked our spacecraft, savagely kidnapped us, heartlessly conducted experiments on us, and mercilessly aimed their death-rays at us, but of course, all of these crimes have been committed only in novels and movies.
Other experts who, like Hawking, have devoted their careers to thoughtful exploration of the possibilities of alien contact say that we don't have anything to fear.
"In movies, aliens only come here for two reasons," Seth Shostak, senior astronomer at the Search for Extraterrestrial Intelligence (SETI) told Life's Little Mysteries, SPACE.com's sister publication. "They either come here to find some resource they don't have on their own planet, or they want to use us for some unauthorized breeding experiment." These scenarios play on our most primal human fears of losing the resources we need to survive or not being able to reproduce, Shostak said.
---