Study suggests humans mated with Neanderthals
A study of DNA from humans living today has found signs of Neanderthal genes, suggesting that interbreeding occurred between the two species.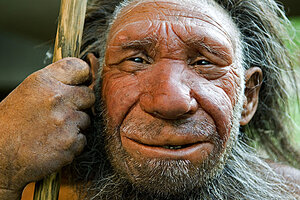 Newscom/File
Humans today could be part Neanderthal, according to a new study that found our ancestors interbred with an extinct hominid species some millennia ago.
Neanderthals walked the Earth between about 130,000 and 30,000 years ago. While they co-existed with modern humans for a while, eventually they went extinct and we didn't. There has been intense scientific debate over how similar the two species were, and whether they might have mated with each other.
"The issue has been highly contentious for some time," said University of New Mexico genetic anthropologist Keith Hunley.
Last week at the annual meeting of the American Association of Physical Anthropologists in Albuquerque, N.M., Hunley and colleagues presented the results of a new study that found evidence for interbreeding between modern humans and some other extinct ancient human species – either Neanderthals (Homo neanderthalensis) or another group such as Homo heidelbergensis. The research was first reported by NatureNews.
---