Ancient meteorites in Antarctica could reveal origins of Solar System
Uncovered in the central part of Antarctica, the two tiny meteorites appear to have come from ancient comets.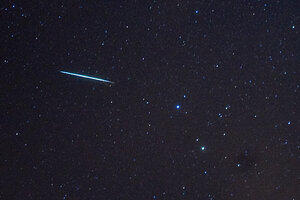 Stan Honda/AFP/Newscom/File
Two tiny meteorites discovered in a 55-year-old snowpack in Antarctica could reveal secrets about the formation of the solar system, scientists say.
Researchers unearthed these fragments by melting and filtering snow that fell in the mid-20th century near the French-Italian CONCORDIA station in the central part of Antarctica. They found a surprisingly un-contaminated sample of objects, many of which have been roaming the solar system for millions of years before ending up on Earth. Their discovery is detailed in the May 7 issue of the journal Science.
"When we melted this snow and we looked at the particles within this very pure snow, we realized that more than one out of two were extraterrestrial," said study leader Jean Duprat of the Universite Paris-Sud in Orsay, France, who was working with the French Polar Institute Paul Émile Victor in Antarctica. "It was the first time we had such an intrinsically clean collection."
Weird little rocks from space
The find turned out to be special in other ways, too. For one thing, two of the meteorite fragments were packed with carbon, which is unusual in rocks like this.
"More than half of their volume is made of a carbon-rich material," Duprat told SPACE.com. "This is exceptional because normally if you take a primitive meteorite, the carbon accounts for about a few percent in mass of the whole rock."
Another strange aspect of the meteorite fragments was their large amount of a particle called deuterium, which is a rare form of hydrogen (while the normal nucleus of hydrogen is made of one lone proton, deuterium contains one proton and one neutron).
---