Is the X-37B a prelude to space warfare?
The X-37B, A U.S. Air Force space raises concerns about weapons in space. While its exact purpose remains unclear, it joins a host of new space technology that could usher in a new era of space warfare.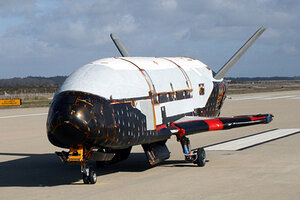 U.S. Air Force/AP/File
A U.S. Air Force space plane and a failed hypersonic glider tested by the Pentagon represent the latest space missions to raise concerns about weapons in space. But while their exact purpose remains murky, they join a host of new space technology tests that could eventually bring the battlefield into space.
Some space technology demonstrations are more obviously space weapons, such as the anti-satellite missile capabilities tested by the U.S. and China in recent years. India has also begun developing its own anti-satellite program which would combine lasers and an exo-atmospheric kill vehicle, as announced at the beginning of 2010.
The U.S. military and others have also long developed and deployed more neutral space assets such as rockets and satellites for military purposes. In that sense, both the Air Force's X-37B robotic space plane and the HTV-2 hypersonic glider prototype of the Defense Advanced Research Projects Agency (DARPA) could represent similarly ambiguous technologies which may or may not lead to weapons.
---