Oklahoma tornado chasers nail forecasts, say more tornadoes possible
Meteorologists had been following the storm that formed the Oklahoma tornadoes since last week. They say the weather system could create more tornadoes in the region this week.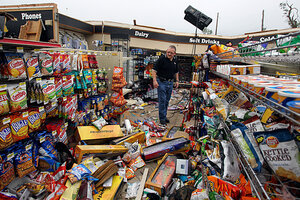 Louis DeLuca/The Dallas Morning News/AP
The human toll of the tornadoes that struck Oklahoma Monday, killing five and injuring more than 50, could potentially have been much worse.
Local weather reports forecast the Oklahoma tornado with remarkable accuracy, pinpointing Monday specifically as the day when the "likelihood exists for a significant severe weather episode in the plains states," according to a local news report made a day before the tornadoes struck.
With the advance warning, some TV broadcasters dedicated the entire day to storm coverage.
IN PICTURES: Oklahoma tornadoes
Meteorologists had been tracking the weather system since the previous week. The Storm Prediction Center in Norman, Okla., warned the region that the atmosphere had the right mix of winds, heat, and moisture for tornadoes.
Indeed stormchasers from North Carolina State University, in Oklahoma to study tornadoes, said conditions were ripe.
"The models had been predicting for several days that there would be a severe weather outbreak, so no one was surprised when the Storm Prediction Center put out a high risk in northern Oklahoma and south central Kansas," writes Casey Letkewicz, a doctoral student in meteorology, in a blog. "All the necessary ingredients were coming together."
---