Despite global warming, gains in fighting malaria, study finds
Public-health efforts and increasing urbanization have overwhelmed any effects that global warming has had on malaria, according to a new analysis.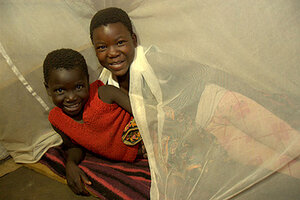 World Vision/PRNewsFoto/File
Malaria may not deserve its high-profile spot as a leading public-health concern tied to global warming.
A research team has found that over the past century, malaria's prevalence has declined significantly, despite a century-long warming of global average temperatures.
The finding was published in this week's issue of the journal Nature by the Malaria Atlas Project, an international consortium of researchers that maps and tracks incidence of the disease, as well as social and environmental factors.
Warming can stimulate malaria outbreaks, as can increased rainfall and even drought, notes David Smith, an associate professor of zoology and an associate director of the Emerging Pathogens Institute at the University of Florida in Gainesville.
But the analysis holds that public-health efforts – from the expanded use of insecticide-laced mosquito nets around beds to improved treatments – and increasing urbanization have overwhelmed any climate-related effect on the incidence of the disease.
"We're not saying that weather and climate won't affect malaria," Dr. Smith writes in an e-mail exchange. "But we are arguing that there are much more powerful forces at work. The broad patterns of the last century suggest an optimistic picture for malaria."
---