MacGruber? Nah, we like MacGyver. Here's MacGyver's top 5 stunts
In honor of MacGyver, here's a listing of his top five coolest and most random stunts.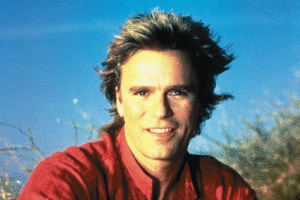 NEWSCOM
"MacGruber," which will bring the "Saturday Night Live" sketch featuring Will Forte and Kristen Wiig to movie screens this month, is a parody of the TV series "MacGyver" that ran during the 1980s and '90s.
The show has such an avid cult following that the word "macgyverize" is included in the Merriam-Webster's open dictionary and is defined as, "to apply scientific or engineering knowledge in the inventive use of common items." "MacGyver," which ran for seven seasons, inspired the phrase "What would MacGyver do?" And fans can even buy an exact replica of MacGyver's trusty Swiss Army pocket knife. The utility knife has 16 functions, including a "laser" light and wood and rope saw.
In honor of MacGyver, the secret agent and gun control advocate who can hotwire a car with a paper clip, create a radar jamming device out of kitchen appliances and unblock nuclear reactor cooling systems using only a dismantled revolver as a wrench, we've put together his top five coolest and most random stunts.
1. MacGyver saves the day with chocolate
---