Using a satellite to create an artificial eclipse
In an attempt to get a better look at the sun's inner corona, scientists with the European Space Agency are proposing a formation of two satellites, with one always in the other's shadow.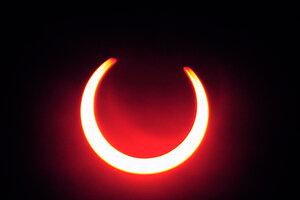 Khin Maung Win/AP
A solar eclipse with the moon blocking the sun may look eerie on Earth, but scientists hope to achieve something similar using two free-flying satellites, with one always flying in its robotic partner's shadow.
The mission would create an artificial eclipse for the observing satellite and allow a year-round glimpse into the sun's inner corona, which is the super-hot plasma atmosphere wreathing the sun.
"The idea was to perform relative positioning between the two satellites and absolute positioning with respect to the sun," said Sebastien Vives of LAM, who led the European Space Agency (ESA) research group.
Simple coronagraphs typically use a circular disk inside a sensor to block out the direct glare from the sun so that scientists can study the fainter areas surrounding the sun's main body. Coronagraphs also help pick out the faint extraterrestrial planets orbiting brighter stars.
Rather than rely on a typical coronagraph, the two satellites would fly in tandem with a distance of 492 feet (150 meters) between them. One would carry a coronagraph instrument to peer at the sun, and the other would act as the 'occulter' and try to cast a shadow with a max positioning error of just a few millimeters.
European researchers unveiled a scale-model of the idea in late April after a six-month huddle at the Laboratoire Astrophysique d'Marseille (LAM) in southern France. The prototype was built under ESA's StarTiger research program.
Light reflected by a distant mirror helped mimic the planned operating distance, with a simulated sun, the occulter and the coronagraph all sitting on an optic bench.
---