New study could explain why volcanoes form far from the edges of tectonic plates
According to the old model of how volcanoes grow, the volcanoes of the Mediterranean shouldn't exist. A new model could explain how they got there.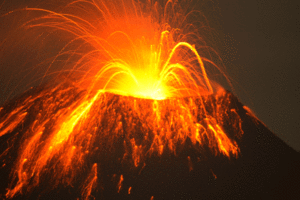 NEWSCOM
The volcanoes of the Mediterranean, such as the explosive Mount Etna, technically shouldn't exist, at least according to the old model of how volcanoes grow. A new study reveals how they got there.
Enormous sections of the Earth's crust — the rocky plates floating on the scorching, molten rock inside the Earth, known as the mantle — can collide and trigger volcanic eruptions, earthquakes and generate mountain ranges. These collisions are the culprits that created many of the world's volcanoes, including those along much of the Pacific "Ring of Fire."
However, some volcanic eruptions happen far from these crash sites. The new study, detailed in the June 3 issue of the journal Nature, suggests that the mantle pushes up on the Earth's crust in some areas, creating extreme pressure that can cause volcanoes — and mountains — to grow, said the researchers who studied these areas. It is this shoving of the mantle that created the volcanoes of the Mediterranean, they said.
"The rise and subsidence of different points of the Earth is not restricted to the exact locations of the plate boundary. You can get tectonic activity away from a plate boundary," said study co-author Thorsten Becker of the University of Southern California in Los Angeles.
---