Sky over Australia to be lit up by returning asteroid probe
The Hayabusa probe was launched by Japan in 2003.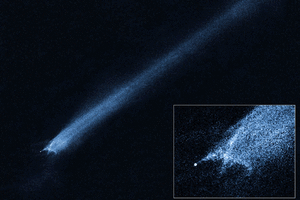 NEWSCOM
A Japanese spacecraft that visited an asteroid in 2005 is returning to Earth this weekend and should put on a brief, but spectacular, light show for fortuitously placed Australians late on Sunday.
The Hayabusa probe was launched by the Japanese Aerospace Exploration Agency (JAXA) on May 9, 2003 and rendezvoused with the Itokawa asteroid on September 12, 2005. [Photos of Japan's asteroid mission.]
Now it is set to land back on Earth, hopefully with asteroid bits in tow.
IN PICTURES: Asteroids
Like a Shooting Star
The Hayabusa spacecraft will enter the Earth's atmosphere at a rather shallow angle of 12 degrees and a speed of 7.6 miles per second (12.2 kilometers per second), and is expected to impact Earth in South Australia near the Australian Defense Force facility at Woomera. The Woomera Prohibited Area, as it is officially known, stretches for 49,000 square miles (127,000 square kilometers) in the northwest of South Australia.
The time of reentry is scheduled for 13:51 GMT Sunday, which corresponds to 11:21 p.m. local time for Woomera. Australia Department of Innovations' Michael Green said people in the vicinity should be able to see the spacecraft's reentry.
---