After visiting asteroid, Hayabusa space capsule returns to Japan
The Hayabusa space capsule, which parachuted into the Australian Outback after a seven-year, billion-mile journey to the asteroid Itokawa and back, is now heading back to Japan for analysis.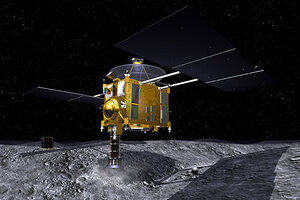 Japan Aerospace Exploration Agency/AP
A space capsule that may contain the first-ever samples from an asteroid in deep space has begun one last trek from its Australia landing site to Japan – its final destination after a billion-mile voyage.
The capsule, which parachuted back to Earth Sunday in the Australian outback, is all that remains of Japan's seven-year Hayabusa mission that visited the asteroid Itokawa in 2005. The basketball-sized capsule is being flown to Japan for its long-awaited opening to see, once and for all, if it actually grabbed samples of an asteroid.
"JAXA has commenced to transport the retrieved capsule to Japan," the Japan Aerospace Exploration Agency (JAXA) said in a statement.
The capsule is expected to arrive at JAXA facility in Sagahimara, Japan, on Friday for a grand opening that will cap a 3.75 billion-mile (6 billion-km) to a near-Earth asteroid. An international team of scientists from JAXA, NASA and Australia will be on hand to begin cataloging any asteroid samples that may be inside. [Photos: Hayabusa's fiery Earth return.]
"Certainly, any samples retrieved from Itokawa will provide exciting new insights to understanding the early history of the solar system," Tommy Thompson, NASA's Hayabusa project manager from the Jet Propulsion Laboratory in Pasadena, Calif. , has said."This will be the icing on the cake, as this mission has already taught us so much."
---