Tornadoes in Wisconsin, Montana spur early warning system
The VORTEX-2 tornado research project completed last week aims to increase warning times and reduce false alarms.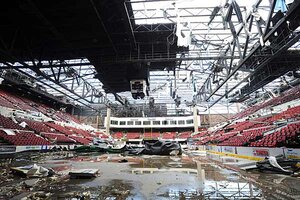 Larry Mayer/Billings Gazette/AP
With the 2010 US tornado season in full swing, scientists are diving into a treasure trove of data gathered during VORTEX 2 – the largest tornado research project ever undertaken.
The ultimate goal of the project, which ended last week, is to increase warning times while reducing the false-alarm rate, says Joshua Wurman, president of the non-profit Center for Severe Weather Research in Boulder, Colo., and one of the project's lead scientists.
"Right now, we have an average 13-minute warning with a 70 percent false-alarm rate," Dr. Wurman says. "If VORTEX 2 can get us up to 15 or 18 minutes, that's still a substantial improvement. That's a lot of extra time for people to seek shelter. And if you can get the false alarm rate down to 60 percent or 50 percent, people will have a lot more confidence that when a warning is issued, it really means business."
At a cursory level, it might seem as though the main beneficiaries of advanced warnings are people who live in "tornado alley," a broad swath of the Great Plains that runs north from central Texas into eastern South Dakota and western Iowa.
---