Water on Mars first discovered 10 years ago. Is it still there?
Water on Mars first discovered ten years ago, might still flow on the surface of the red planet.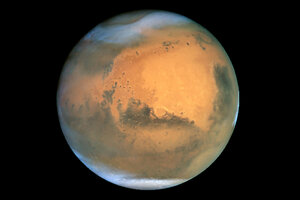 Space Telescope Science Institute/AP/File
Ten years ago this week, news from Mars made a huge splash on Earth — water might still flow on the surface of the red planet. That news, announced by NASA, hinged on photos of newfound gullies etched across the Martian surface, and a decade of other water-on-Mars discoveries ensued. Yet even 10 years later definitive proof of flowing Mars water remains elusive.
The quest to find evidence of liquid water on Mars, and the surprises that have turned up along the way, have transformed our view of the red planet from a dry and dead planet to one where life might have flourished and even live still.
"We are definitely on the path to exploring the habitability of Mars — what it's been like in the past and even potentially now," said Michael Meyer, lead scientist for NASA's Mars Exploration Program. [Photos: Water on Mars imagined.]
IN PICTURES: Mars Spirit rover: What a long-range trip it's been
The big news
Scientists analyzing data from NASA's Mars Global Surveyor spacecraft 10 years ago found what appeared to be gullies formed by flowing water, as well as debris and mud deposits these flows may have left behind.
These features appeared so fresh that they might still be forming today, researchers said at the time. The changing appearance of gullies on Mars over time supported their findings, they later said.
NASA announced the news on June 22, 2000, with the research later appearing in that year's June 30 issue of the journal Science.
---