Antarctic glacier melt explained
Antarctic glacier melt is a major cause of rising sea levels. With the help of a robotic underwater vehicle, scientists have now determined why one big glacier is disappearing.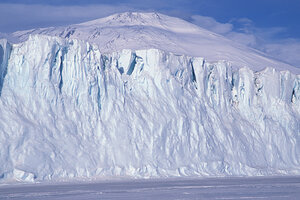 Newscom/File
One of the more daunting future effects of climate change involves the rise in sea levels that is expected to occur as warming causes the ocean's waters to expand and glaciers to melt, pouring more water into the seas.
A key unknown potential contributor to that glacial melt is the thinning ice of West Antarctica, which is covered in a chunk of ice about the size of Greenland — enough water is held in that ice to raise sea levels by several meters. Scientists estimate that West Antarctica is currently contributing nearly 10 percent of global sea level rise from an acceleration in glacier ice melt.
Pine Island Glacier in particular has been identified as a major source of West Antarctica glacier melt. With the help of a robotic underwater vehicle, scientists have now figured out what is causing Pine Island Glacier to melt so fast.
Seafloor ridge
Pine Island Glacier, like all outlet glaciers, has a portion that sits on land, and a portion that floats on top of the sea — the line between the two portions is called the ground line. It is the land portion of the ice that contributes to sea level rise.
One process by which glaciers run ice out to sea is by calving of icebergs. A large chunk of Pine Island Glacier fell off in 2007.
Scientists sent a vehicle called Autosub to dive deep below the glacier's floating ice shelf to see what might be speeding up its melt. The sub found two things: warm water below the glacier and a 980-foot (300-meter) tall ridge on the ocean floor that no one knew was there.
---