iPhone 4 reception problems caused by holding it wrong, says Apple
iPhone 4 reception gets messed up when the phone is held by its bottom left corner. Apple's solution: Don't hold it that way.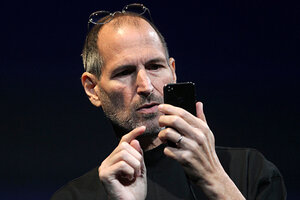 Robert Galbraith/Reuters
In response to widespread reports of reception problems when the iPhone 4 is held by its bottom-left corner, Apple has told its customers simply to not hold the phone in this manner.
But that is easier said than done: gripping the iPhone 4 in one's left hand is apt to touch both the bottom and left portions of the wrap-around steel bezel that doubles as the phone's antenna. Forming a circuit in this way courtesy of conductive, water-logged human flesh is thought to disrupt the radio frequency signal.
This technical snafu could turn out to be a major one. Considering that the majority of the population is right-handed, many people will be holding the iPhone 4 in their left hands while touch-screening away.
Do as I say, not as I do
Apple's blunt advice also smacks of contradiction when considering that at the launch event, Apple CEO Steve Jobs similarly gripped the phone in this natural way. Product demos as well show anonymous iPhone users gripping the device in the same manner that, according to multiple video testimonials on YouTube, will cause the reception to plummet from five bars to none.
Rumors and reports swirled yesterday about this glitch, and various people and bloggers emailed Apple and even Jobs directly to comment.
---