Lunar eclipse: The truth behind eclipses
Lunar eclipse: The study of eclipses has been a part of astronomy since its inception.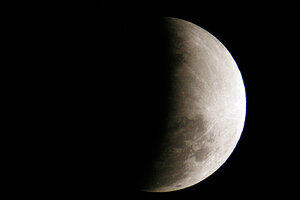 Slamet Riyadi/AP
The word "eclipse" means much more than the vampire and werewolf thriller set to hit theaters on Wednesday. But "The Twilight Saga: Eclipse," the latest film based on the popular vampire book series, is being released between two of nature's real-life eclipses – a recent partial lunar eclipse and a solar eclipse coming on July 11.
The study of eclipses has been a part of astronomy since its inception, since they are some of nature's most dramatic celestial shows.
The first lunar eclipse of 2010 occurred on Saturday, June 26, and was visible across parts of the Americas, the Pacific Ocean and eastern Asia. However, it was only a partial eclipse of the moon as it passed through part of Earth's shadow.
On July 11, the second solar eclipse of 2010 will occur, creating a total eclipse along a narrow corridor of the Earth's southern hemisphere.
Solar eclipses occur when the Earth, moon and sun are aligned on the same plane, and the moon comes between the Earth and the sun. [Solar eclipse photos.]
A lunar eclipse, on the other hand, occurs when the moon slips behind the Earth, which blocks the sun's rays from striking the moon. With a lunar eclipse, the moon, Earth and sun are again aligned (or closely so), with the Earth in the middle.
---
Follow Stories Like This
Get the Monitor stories you care about delivered to your inbox.