Did sun eruption spawn zombie satellite?
A coronal mass ejection – a massive bubble of magnetically charge gas cast out from the sun – may have been responsible for disabling the Intelsat communications satellite Galaxy 15 in April.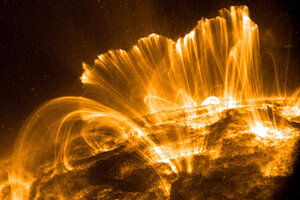 AFP/NASA/Newscom/File
Scientists have identified a massive eruption from the sun in April that reached all the way to Earth and may be responsible for knocking out a satellite, creating a so-called "zombie satellite."
The huge explosion of plasma and magnetic energy, called as a coronal mass ejection (CME), occurred on April 3 and was observed by NASA's sun-watching STEREO spacecraft, according to the U.S. Naval Research Laboratory (NRL). The laboratory released new images of the solar storm last week.
The solar storm appears to have disabled the Intelsat communications satellite Galaxy 15, NRL officials said. Galaxy 15 lost contact with its ground controllers on April 5 and has been drifting around Earth ever since.
Solar storms are known to put satellites at risk. The charged particles in a storm can short out electrical equipment.
The observations suggest the coronal mass ejection flung material away from the sun at a phenomenal 1,000 kilometers per second. The solar eruption was moving at 2.2 million mph (3.6 million kph) while it was still close to the sun on April 3. It then slowed down to about 700 kilometers per second (1.5 million mph or 2.5 million kph) when it reached Earth on April 5.
There is an odd twist to the Galaxy 15 satellite failure. While the satellite has stopped communicating with its ground control center, its C-band telecommunications payload (which provided broadcast services to customers) is stuck on, earning it the "zombie satellite" nickname.
---