NASA chief says agency's goal is Muslim outreach, forgets to mention space
In an interview last month on Al-Jazeera, NASA chief Charlie Bolden said that one of NASA's foremost tasks is to engage with Muslim nations. The White House disagreed, suggesting that the agency should perhaps focus on space exploration.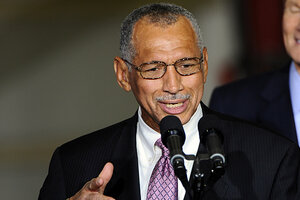 Joe Marino-Bill Cantrell /UPI/Newscom/File
Reaching out to the Muslim world is not part of NASA chief Charlie Bolden's job, the White House said Monday.
White House press secretary Robert Gibbs said Bolden probably misspoke in recent remarks in which the NASA chief and former astronaut said one of his foremost tasks in leading NASA is to engage with Muslim nations about science.
"That was not his task, and that's not the task of NASA," Gibbs said during Monday's daily briefing.
IN PICTURES: NASA's Future of Space Exploration
NASA confirmed that Bolden misspoke.
"NASA's core mission remains one of space exploration, science and aeronautics," NASA spokesman Michael Cabbage told SPACE.com. "Administrator Bolden regrets that a statement he made during a recent interview mischaracterized that core mission. The success of NASA's efforts is increasingly enhanced by mutual cooperation with dozens of other countries around the world that are also committed to these efforts."
Bolden made the comments in an interview while visiting Egypt two weeks ago. It aired June 30 on the Arabic news network Al-Jazeera.
---