Air Force to convert F-16s to drones, shoot them down
The Air Force will spend some $70 million to convert six aging F-16 into unmanned aircraft to be used as target practice.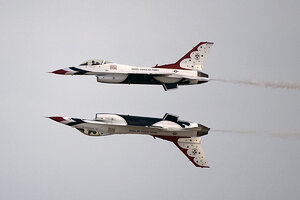 Joe Marino-Bill Cantrell/UPI/Newscom/File
A squadron of aging U.S. Air Force fighter jets will be converted into drones that will be used for friendly fire target practice.
The Lockheed-Martin F-16 Fighting Falcon is the flagship jet of the Thunderbirds, the U.S. Air Force's precision flying team, and is flown by the Air Force, Air Force Reserves and Air National Guard. But the fighter has been in service since 1979 and early models that are getting long in the tooth are now marching into retirement. They won't go quietly, though. The Air Force has launched a program to convert many of these F-16s into QF-16 drones that will intentionally be shot down.
The Fighting Falcon is being turned into a clay pigeon that can streak through the sky at a speed in excess of Mach 2, or twice the speed of sound.
IN PICTURES: Air Force drone jockeys
Boeing was awarded a $69.7 million contract from the Air Force to convert six F-16s as the first phase of the Q-16 program. Eventually as many as 126 of the sleek fighters will be converted into drones to be used as targets to test newly developed air-to-air weapons and tactics. [Read "7 Unmanned Airborne Warriors."]
---