US missile defense satellites pass big test
Two experimental US missile defense satellites have passed a series of vital tests in space, successfully spotting three missile launches and relaying their data back to Earth.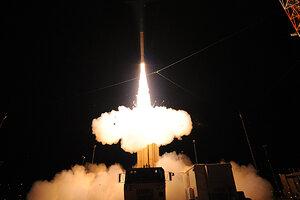 PRNewsFoto/Lockheed Martin/file
A pair of experimental U.S. missile defense satellites has passed a series of vital tests in space, spotting three missile launches and successfully relaying data about their trajectories to observers on Earth.
The two satellites make up the Space Tracking and Surveillance System (STSS) and were built by Northrop Grumman and Raytheon for the U.S. Missile Defense Agency as a demonstration of technology to protect the United States from enemy missiles. The $1.5 billion STSS Demonstration mission was launched in September 2009.
The STSS's most recent test, the June 28 observation U.S. Missile Defense Agency rocket launch during an intercept test, was "the most thorough indication yet of the space-based sensor's capabilities," Northrop Grumman officials said in a statement.
During that test, the STSS satellites detected the liftoff of a target missile mimicking an enemy launch as part of a test of the Army's Terminal High Altitude Area Defense (THAAD) missile, which successfully intercepted the "enemy" target vehicle. [Most destructive space weapon concepts.]
---
Follow Stories Like This
Get the Monitor stories you care about delivered to your inbox.