Australian attraction to offer tours in Klingon language
The Jenolan Caves in Australia's Blue Mountains will soon offer the world's first audio tour entirely in Klingon, the fictional language used by the lumpy-headed, militaristic aliens in the Star Trek universe.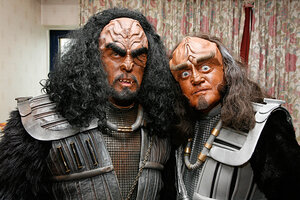 Newscom/File
Australia's Jenolan Caves will soon offer the world's first audio tour voiced entirely in Klingon, the guttural language created for the popular "Star Trek" aliens with bumpy foreheads and a warrior's mentality.
On Aug. 22, the Klingon language will be one of three options added to the eight currently available for the self-guided audio tour through the "Nettle Cave." As many as 200,000 people pass through the chambers of this underground labyrinth annually, making it the most visited cave on the continent, Jenolan Caves Reserve Trust officials said in a statement.
"We are poised to boldly go where no other tourist attraction has gone before, with the first cave tour in the world to be available in the Klingon language," Reserve Trust officials said. [Star Trek Technologies in Real Life]
Two Klingon scholars from the United States visited the Jenolan Caves in early July, the officials added. After Michael Roney Jr., a professional Klingon translator based in Indianapolis, and science fiction author Tracy Canfield finalized the translation of the tour script, they joined forces in recording the new, properly harsh-sounding audio track.
Speaking in the alien language, Roney, who goes by the Klingonese name of "naHQun," remarked, "lH, qar'a'" in expressing the beauty of the caves.
---