Huge spacequakes shaking Earth's magnetic field
A new study has found that spacequakes – tremors in the Earth's magnetosphere caused by plasma ejected from the sun – tend to pack a punch.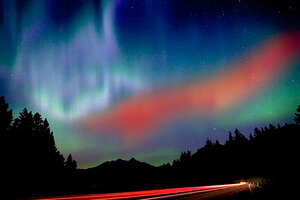 Newscom/File
Like an earthquake in space, so-called spacequakes are temblors in Earth's magnetic field caused by plasma flying off the sun that could help generate the colorful auroras that dance high in Earth's atmosphere, a new study suggests.
While felt most strongly in Earth orbit, these quakes can also reach all the way down to the surface of Earth itself.
"Magnetic reverberations have been detected at ground stations all around the globe, much like seismic detectors measure a large earthquake," said Vassilis Angelopoulos of UCLA, principle investigator of NASA's THEMIS spacecraft.
And these rumbles can pack a punch.
"The total energy in a spacequake can rival that of a magnitude 5 or 6 earthquake," according to Evgeny Panov of the Space Research Institute in Austria. Panov is first author of a paper reporting the results of a study on spacequakes in the April 2010 issue of Geophysical Research Letters. [Illustration: Spacequake in action.]
---
Follow Stories Like This
Get the Monitor stories you care about delivered to your inbox.