Vital ocean phytoplankton a casualty of global warming?
A new study suggests that a global rise in ocean temperatures has cut the number of phytoplankton, which are the bedrock of the food chain, by 40 percent since 1950. Other scientists link the rise in ocean temperatures to global warming.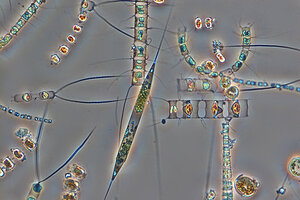 AP
The foundation of the ocean food chain is eroding, and global warming is partly to blame.
That's the broad conclusion from a newly released study of a century's worth of measurements of the abundance of phytoplankton in the world's oceans.
Between 1899 and 2008, phytoplankton – microscopic, plant-like organisms in ocean surface waters – declined by roughly 1 percent of the global average per year, the study estimates. That works out to a 40 percent drop in amount of phytoplankton between 1950 and 2008, according to the study, which appears in tomorrow's issue of the journal Nature.
Beyond disruptions to the ocean food chain, such a decline would undercut the ocean's ability to take up the carbon dioxide humans have pumped into the atmosphere through increased burning of coal, oil, and gas, as well as through land-use changes, say scientists.
If the findings hold up to additional scrutiny, "that's quite remarkable," says Peter Franks, a phytoplankton ecologist at the Scripps Institution of Oceanography in La Jolla, Calif. "If it's true, there's a lot of bad stuff going on."
Phytoplankton use sunlight to convert carbon dioxide into oxygen and into the sugars that keep the plankton alive long enough to become another creature's meal. By some estimates ocean phytoplankton are responsible for half of all the photosynthetic activity on the planet.
---