Missed Tuesday's northern lights show? Another is on its way.
For folks along the northern rim of the US, a second chance to see the northern lights will come when another solar outburst hits Earth Wednesday or Thursday.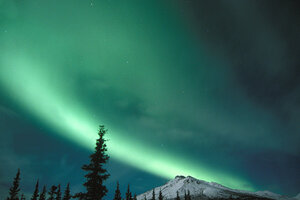 Newscom
If you're still in the hunt for aurora borealis, the outbursts of hot, ionized gas the sun sent toward Earth on Sunday may just keep on giving.
Space-weather forecasters say that there's a 20 percent chance for a major geomagnetic storm tonight – an event stronger than last night's that would make any auroras visible farther south than last night's northern-light show reached.
To be sure, it's more likely that the storm will get no stronger than last night's, which turned out to be a bit more intense than forecasters had predicted.
IN PICTURES: The Northern and Southern Lights
Still, a 20 percent chance of rain sends many folks looking for an umbrella.
Even if tonight's conditions only match last night's, however, skywatchers in the right locations across northern Europe, as well as Canada and the northern US would get a second opportunity to grab some conversation-piece photos of a midnight horizon bathed in blue and green.
The current forecast
Data from sun-watching satellites suggest last night's event could have been more dramatic if Earth had been hit by the most dense part of the vast plasma cloud that raced by. Instead, the third rock from the sun encountered the plamsa cloud's suburbs.
---