Scientists recreate ancient mysterious blob
A primordial blob that lived some 425 million years ago was discovered preserved within volcanic ash. Scientists have now reconstructed its body as a 3D computer model.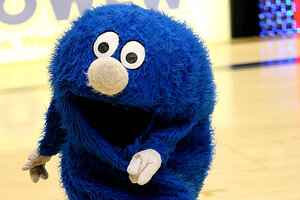 Newscom/File
A primordial living blob that once inhabited the ocean became entombed within volcanic ash for 425 million years, but researchers have now resurrected its soft body as a 3-D computer model.
The body of the cone-shaped animal, named Drakozoon kalumon, reached just 1.7 millimeters long, but also had leathery outer skin and a hood that reached 2.2 millimeters long. When threatened, it may have pulled down the hood over its body for protection against predators. [3-D image of blob]
The new 3-D recreation has given researchers fresh insight into the specimen discovered six years ago.
IN PICTURES: The 20 weirdest fish in the ocean
"We think this tiny blob of jelly survived by clinging onto rocks and hard-shelled creatures, making a living by plucking microscopic morsels out of seawater," said study researcher Mark Sutton, a paleobiologist at the Imperial College London in England.
---