Huge space explosion catches everyone by surprise
A nova – a massive nuclear explosion thrown from a white dwarf star – usually doesn't emit gamma-rays, the most energetic known form of light. But this one did.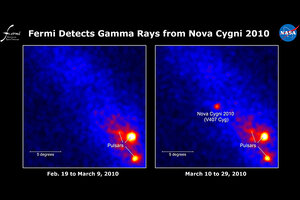 NASA/DOE/Fermi LAT Collaboration
An unexpected and powerful new kind of star explosion has been discovered in the heavens — a so-called gamma-ray nova that radiates the most energetic form of light in the universe.
A nova is a massive thermonuclear explosion from a white dwarf star fueled by mass from a companion star. Unlike supernovas, novas do not result in the destruction of their stars. Researchers had expected and seen X-rays from the resulting waves of expanding gas in prior novas. But unlike with supernovas, they had not seen gamma-rays emitted by novas.
Now researchers have discovered a nova that shed gamma rays, which are even more powerful than X-rays, by using the Fermi Large Area Telescope in orbit around the Earth, the most sensitive gamma-ray space telescope ever flown. [Photo of the gamma-ray nova.]
IN PICTURES: Supernovae and their remnants
"This is the first gamma-ray nova seen," said researcher Teddy Cheung, an astrophysicist at the Naval Research Laboratory in Washington.
Gamma-ray star explosion
---