Alien worlds? Far-off galaxies? Study sets US space priorities.
The National Research Council's once-a-decade study, released Friday, proposes the top priorities for US space science during the coming decade. NASA uses it as a blueprint.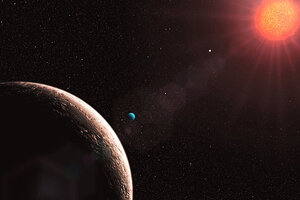 European Organisation for Astronomical Research in the Southern Hemisphere/AP
If the Perseid meteor shower has whetted your appetite for matters astronomical, a menu of projects has been drawn up that promise dramatic cosmic discoveries over the next decade.
From observing the universe's first galaxies and black holes, which are thought to have appeared some 13 billion years ago, to building a detailed tally of the number of habitable planets around nearby stars, astronomers in the United States have developed an ambitious set of projects for the next 10 years.
The once-a-decade report releases Friday represents a two-year effort of consultation and debate to set priorities for the US space-science community, after sorting through hundreds of suggestion regarding major projects and programs researchers would like to undertake.
The document historically has served the blueprint federal agencies such as the National Aeronautics and Space Administration, the National Science Foundation, and the US Department of Energy use for formulating their astronomy and astrophysics budget requests.
To achieve the goals it lays out, the plan includes new ground- and space-based telescopes. It recommends increased support for projects that can be fielded fairly quickly in response to serendipitous discoveries. And it includes calls for closer cooperation among astronomers and astrophysicists in countries worldwide.
---