Global warming: World's highest island glacier vanishing
The glacier on Puncak Jaya in Papua, Indonesia, the Earth's highest island, is quickly melting away, giving geologists little time to extract ice core samples.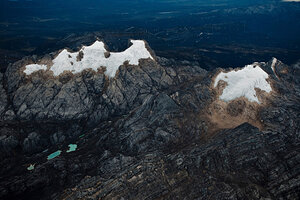 Jez O'Hare/Freeport-McMoRan/Reuters/File
Ice cores extracted in June from one of the last tropical glaciers in the Pacific recently arrived in the United States, where researchers will spend the coming months scrutinizing their every detail.
Glaciologists spent two grueling weeks drilling for the ice cores atop Puncak Jaya in Papua, Indonesia. Puncak Jaya is the Earth's highest island peak and the tallest mountain between the Andes and the Himalayas at 16,000 feet (4,884 meters).
Reach team member Dwi Susanto of Columbia University said the excursion was "a lifetime achievement for me, as I usually work at sea level."
The mission may have been a once-in-a-lifetime mission for another reason: The Puncak Jaya glacier is disappearing — fast. The glaciologists who drilled through the cap, led by Lonnie Thompson of Ohio State University, said the ice field could vanish within the next few years. [See images of the scientists at work.]
These invaluable ice cores are like climate time capsules buried thousands of years ago that show successive layers of ice and snow that have been laid down on glaciers. They enclose tiny bubbles that contain samples of the atmosphere trapped when each layer of ice first formed. By unlocking their secrets, scientists will reveal how the climate has changed over thousands of years.
---