Russia fires caused by global warming? Maybe not, say scientists.
The Kremlin's top meteorologist said that Russia's recent spate of extreme weather and wildfires 'are signs of global warming.' That's not quite right, say climate scientists.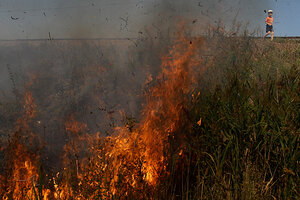 Ivan Sekretarev/AP
Russia's heat wave, drought and wildfires, by themselves, are not signs of global warming, according several leading climatologists — despite widely reported claims this week by a Russian scientist.
But experts agree that overall, the climate indeed shows signs of human-induced warming.
Alexander Bedritsky, the Krelim's weather adviser and president of the World Meteorological Organization, said that Russia's recent spate of extreme weather, along with other natural disasters, including the recent flooding in Pakistan and France's 2003 heat wave, taken together, "are signs of global warming," according to the Associated Press.
IN PICTURES: Russia's Summer 2010: Heat, drought, smog, and fires
"I don't think they got it quite right," said climatologist Kevin Trenberth of the National Center for Atmospheric Research in Boulder, Colo. "I believe the correct interpretation is that nowadays everything has a component of natural variability and also global warming."
The difference comes up often when global warming's proponents — or detractors — try to base an argument one way or the other on a single event.
---