Kepler telescope finds two planets – and a possible new use
Kepler, the NASA telescope launched in March 2009, used the 'transiting' method to find two Saturn-size planets orbiting a star in the constellation Lyra.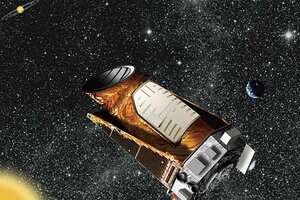 Nasa/File
NASA's planet-hunting Kepler spacecraft has bagged its first multiple-planet solar system – two Saturn-size planets circling a star 2,283 light-years from Earth, in the constellation Lyra.
Moreover, the system may host a third planet, roughly 1.5 times Earth's size, orbiting the host star well inside the orbits of the other two.
"This is the first system of multiple transiting bodies that are confirmed to be planets," says planetary scientist Matthew Holman, who led the team reporting the results Thursday on Science Express, the online edition of the journal Science.
By transiting, Dr. Holman is referring to the way the planets dim the light from their host stars as the planets swing in front of the star from Earth's perspective.
The announcement comes on the heels of another earlier this week of a solar system hosting five Neptune-like planets, very close to their parent star -- and potentially hosting a "super-Earth" at roughly the same distance as the Kepler group's innermost "candidate" orbits.
In Kepler's case, the newfound planets both are slightly smaller and less massive than Saturn. Both orbit the star, dubbed Kepler 9, at a distance that would fall well within Mercury's orbit if they were orbiting the sun.
---