Does playing 'Grand Theft Auto' make you smarter?
Scientists have found that those who play action video games such as Grand Theft Auto: San Andreas and Halo 2 show improved ability at making quick and accurate decisions.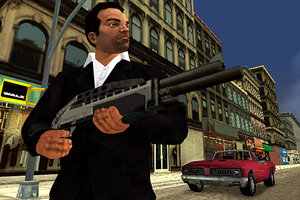 Newscom/File
Video games really could make your mind sharper by improving your decision-making skills, a new study finds.
Past research showed that people who play action video games have faster reaction times than those who don't play the games. Action video games typically refer to "shooter games, where you go through a maze and you don't know when a villain will appear," said researcher Daphne Bavelier, a cognitive neuroscientist at the University of Rochester in New York.
Still, one could argue that action games just make gamers trigger-happy, apt to react quickly but not accurately. After all, action games are "not exactly what you'd think of as mind-enhancing," Bavelier said. [Play brain-training games.]
IN PICTURES: Controversial video games
Now scientists find action gamers apparently are better at making quick and accurate decisions, ones based on details they extract from their surroundings. This appears to explain why video game-playing skills translate into broad improvements in many kinds of tasks, regardless of whether those depend on sharp eyes or the ability to pay attention.
---