Packing light for Mars? Bring genetically modified algae
Bioengineered organisms could open up a lot of room in astronauts' suitcases. The more food and fuel travelers can produce once they arrive on Mars or the moon, the less they have to pack.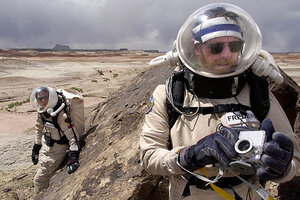 Douglas C. Pizac/AP/FILE
When packing for a manned mission to Mars or the moon, the best thing to bring may not be food or fuel, but specially designed organisms that can create those things for you.
Scientists are researching the possibility of engineering synthetic organisms that would use the resources available in the solar system to create the supplies astronauts would need to survive on another planet.
"Personally I'm interested in space settlement," said John Cumbers, a graduate student at NASA's Ames Research Center in Moffett Field, Calif., who is researching synthetic microbes. "I think we have two choices: We can either go into space and be living inside a tin can, or we can be going into space and recreating in space some of the beauty of nature we have here on Earth."
IN PICTURES: Space photos of the day
Cumbers said he wasn't advocating terraforming, or completely restructuring the surface of a planet to mimic Earth, but rather using bioengineered organisms in a planned and contained way to make life easier in an alien environment. [Mars Base Gallery]
"I think there's a lot that we can do that's productive with biology without having to release organisms in an unplanned fashion," Cumbers told Astrobiology Magazine.
The dangers of 'Frankenlife'
Even with careful planning, this concept could bring risks, as some experts warn against creating "Frankenlife" that could become an invasive species with unintended consequences for humans or the alien environment, including any native life.
---