Ancient volcanic field reawakens in Saudi Arabia
In 2009, more than 30,000 earthquakes struck an ancient lava field, opening up a five-mile long crevice. Sensors shoow that magma has risen to roughly a mile below the surface of the Earth, and eruptions remain possible.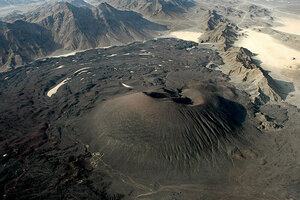 AFP/Newscom
A swarm of thousands of earthquakes that struck the corner of Saudi Arabia nearest to Egypt in 2009 helped reveal that the area is unexpectedly volcanically active, scientists now report.
The seismic readings that researchers managed to collect from these quakes could help predict when volcanoes might erupt in the future, investigators added.
Scientists had largely thought northwest Saudi Arabia was quiet, geologically speaking. Few earthquakes and few volcanic eruptions have been recorded there in the past millennium.
IN PICTURES: Volcanoes around the world
However, between April and June 2009, more than 30,000 earthquakes struck an ancient lava field there named Harrat Lunayyir, with 19 earthquakes of magnitude 4 or greater striking at the swarm's peak on May 19, including a magnitude 5.4 quake that fractured walls in the town of Al Ays. Sensors even suggested that a volcanic eruption was possible. Alarmed, the Saudi Arabian government then evacuated 40,000 people from the region.
Part of Red Sea Parting
---