South Africa rhinos: Poachers now take 20 rhinos per month
Poaching of African rhinos has risen 2,000 percent in the past three years, says the World Wildlife Fund. Rhino horns fetch up to $30,000 per pound.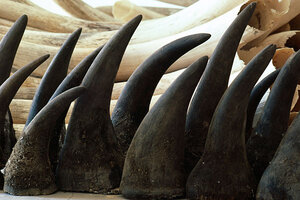 Anthony Bannister/Newscom
The poaching of rhinos for their horns has risen dramatically over the last year and a half, conservationists report.
These crimes are fueled by demand for African rhino horn from the Asian market, where it can fetch more than $30,000 a pound ($60,000 per kilogram).
Africa is losing a rhinoceros every other day. South Africa, which holds more than 80 percent of the continent's rhino population, has been losing at least 20 rhinos per month.
"Within South Africa's national parks — not counting private land there, where poaching was rare — there were 10 rhinos poached in 2007," said Matthew Lewis, senior program officer for African species conservation for the World Wildlife Fund. "Thus far in 2010 alone, more than 200 rhinos were poached within South Africa, with a lot of those poached outside national parks, so that's a more than 2,000 percent increase in just three years' time."
The horns might weigh 6.3 to 8.1 pounds (2.9 to 3.7 kilograms) on average. Bits of crushed horn are a prized ingredient in traditional Asian medicines.
The crisis in Africa
---