Monarch butterflies migration headed towards Mexico
Monarch butterflies migration from the John Ball Park Zoo to Mexico is for one family the culmination of a season of raising several generations of Monarch butterflies.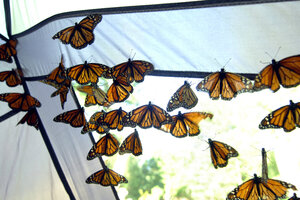 Katy Batdorff/The Grand Rapids Press/AP
GEORGETOWN TOWNSHIP, Mich.
Dozens of monarch butterflies created an orange and black collage on the side of Holli and Dustin Ward's screened backyard tent, which acts as their summertime butterfly abode.
After a recent release at John Ball Park Zoo, the butterflies are well on their way to Mexico.
For the Wards, the release culminated a season of raising several generations of monarchs from egg to larva to pupa and finally to adult butterfly.
The Wards and their children, Aiden Popour, 9, Ethan, 6, and Inara, 4, spent hours on care, turning the family's eight-year hobby into a business, Michigan Butterflies.
They sell educational kits at farm markets and craft sales, supply butterflies for release at events and offer consulting services. Outreach has included the release at the zoo and another release at Pinewood Elementary School in the Jenison district.
Aiden has named himself president of education sales, and Ethan is vice president. Dustin is chief innovator, and Holli is "The Butterfly Whisperer."
The endeavor has nearly taken over their Georgetown Township house. Caterpillar cages are in the kitchen, and a mini-tent in an upstairs bedroom is home to a rare white monarch.
---