Richard Heck, a retired University of Delaware chemist, among Nobel Prize winners
Richard Heck worked in the 1960s to find a new way to bond carbon atoms. Now, some two decades after he retired, he has been honored with a Nobel Prize in Chemistry.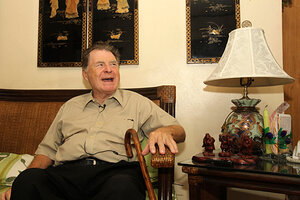 Bullit Marquez/AP
Retired University of Delaware chemist Richard F. Heck and two Japanese scientists won the 2010 Nobel Prize in chemistry Wednesday for finding new ways to bond carbon atoms together, methods now widely used to make medicines and in agriculture and electronics.
Heck, along with Ei-ichi Negishi and Akira Suzuki, were honored for their development four decades ago of one of the most sophisticated tools available to chemists today, called palladium-catalyzed cross coupling. Their work lets chemists join carbon atoms together, a key step in the process of building complex molecules.
Heck, 79, who retired and moved to the Philippines with his Filipino wife, said from his home there that he was glad to have won.
"I published this work in the early days, it just took a while for it to get appreciated," Heck said.
Heck started experimenting with using palladium as a catalyst while working for an American chemical company in Delaware in the 1960s. In 1977, Negishi developed a variant of the method and two years later Suzuki developed a third.
The methods developed by the three scientists have been used to artificially produce cancer-killing substances first found in marine sponges, the Royal Swedish Academy of Sciences said in its citation. It's not yet clear whether they will turn out to be useful drugs.
---