Yellowstone Lake yields thriving colony of life at bottom
Yellowstone Lake, previously thought to be devoid of life, has been discovered to contain thousands of species, mostly clustered around the geothermal vents at the bottom.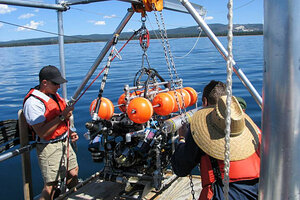 Big Sky Institute/AP
What was believed to be a simple Yellowstone Lake ecosystem limited by the frigid snowmelt that feeds the lake actually contains thousands of species living off nutrients provided by geothermal features below the surface, researchers have found.
Montana State University researchers using a remotely operated vehicle recently discovered a thriving colony of moss, shrimp and aquatic worms centered around a geothermal vent about 100 feet below the surface.
John Varley, head of MSU's Big Sky Institute, said Tuesday the discovery reveals a greater diversity of life than what was previously thought to exist in the lake at the center of Yellowstone National Park.
Trout, plankton and other species live in the lake, but the diversity of the ecosystem was always believed to be limited because the water that flows into the lake is like distilled water, devoid of the minerals that are the building blocks of life.
IN PICTURES: Yellowstone National Park
"It was always thought of as a very simple ecosystem, and that made sense because its entire drainage is made up of snowmelt that travels over relatively insoluble volcanic rocks," Varley said. "But it's not a simple ecosystem. There are thousands of species in there, some of which are associated with the cold water, some of which are associated with the hot water."
---