Moon's got water, yeah. But it's got other resource goodies, too.
Besides water, frigid craters at the moon's poles hold other resources that astronauts might be able to use to sustain lunar bases. There's even a bit of silver.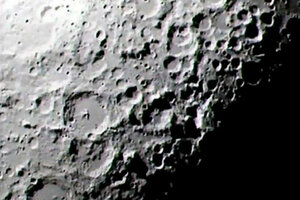 NASA/AP/File
Deep, frigid craters at the moon's poles appear to hold a wider variety of flash-frozen resources for future explorers than scientists thought even a year ago – from water to carbon dioxide, methane, mercury, and even small amounts of silver.
This is the implication scientists are drawing from data gathered from two NASA missions to explore the moon and take the measure of resources that astronauts might be able to use to sustain bases there.
The two missions were launched on the same rocket from the Kennedy Space Center in Florida in June 2009. The Lunar Reconnaissance Orbiter (LRO) arrived at the moon several days after launch and began mapping the lunar surface. It also gathered data on lunar temperatures and composition of the moon's surface. The second landing, four months later, made a bigger impression. LCROSS – the spent upper stage from the rocket that had launched the two craft, plus a package of sensors and instrumets that guided the upper stage and recorded its impact – deliberately collided with the bottom of Cabeus Crater near the moon's south pole.
The 5,500-mile-an-hour impact created what LCROSS lead scientist Anthony Colaprete calls "a hot, steaming crater," briefly warmed by energy released in the collision and humidified by the vaporized water ice carried up in the debris plume.
---
Follow Stories Like This
Get the Monitor stories you care about delivered to your inbox.