Will Florida's Burmese pythons move north? How far?
Scientists brought 10 Burmese pythons to South Carolina to test the validity of one study that said the snakes could survive as far north as Washington, D.C.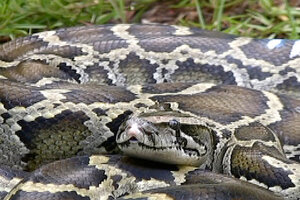 Alysia Patterson/AP/File
With thousands of Burmese pythons and other giant invasive snakes devastating wildlife in the Florida Everglades, the hottest question on many minds is: How far north could they go?
New research shows the snakes can withstand surprisingly cold temperatures, leaving open the possibility that their range could extend hundreds of miles northward.
Burmese pythons have been crawling amok in South Florida since at least the mid-1990s. The population's forerunners were probably released by pet owners daunted by the prospect of maintaining a predator that can grow to 20 feet (6 meters) long and weigh 200 pounds (90 kilograms).
No one knows exactly how many there are now, but estimates put their numbers in the thousands or tens of thousands. The pythons have been devouring local wildlife, indulging in mega-meals like deer, bobcats and alligators, as well as endangered species like the woodstork and the Key Largo woodrat.
So far the Burmese python invasion is restricted to Florida's southern tip, but scientists have been debating whether it could spread to more temperate parts of the United States. After all, the species' native range includes the foothills of the Himalayas, so it is no stranger to cold. One alarming study by the U.S. Geological Survey in 2008 predicted the pythons could find suitable climate in about a third of the United States, as far north as Washington, D.C.
---