How an Alaskan front became the Midwest megastorm
Meteorologists continue to marvel at the megastorm that blew through the Midwest Tuesday. Several peculiar weather events combined to make the storm historic.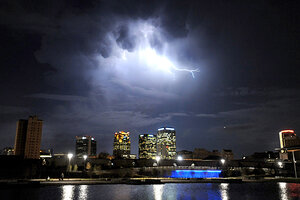 Mark Almond/The Birmingham News/AP
The US heartland hasn't seen a storm like this week's record-breaker since the Great Ohio Blizzard of January 1978, and residents probably hope they see nothing like it soon.
The mighty low-pressure system that brought heavy rain, high winds, and tornadoes to the central US is slowly pirouetting its way through Ontario toward Canada's eastern Maritime Provinces.
In its wake, residents across the Dakotas are digging out from heavy snow and folks farther east and south are coping with downed tree limbs, power outages, and damaged homes.
Weather forecasters are marveling at the powerful system.
"It's a fascinating storm," says David Imy, a forecaster with the National Oceanic and Atmospheric Administration's Storm Prediction Center (SPC) in Norman, Okla. It spawned 24 tornadoes from Wisconsin to North Carolina. Forecast offices in the region tallied nearly 300 reports of wind damage.
Federal forecasters note that the atmospheric pressures at the storm's center reached a record low for a continental storm – dropping to 28.24 inches of mercury Tuesday. It's a level typically seen in major hurricanes.
---